SATURDAY, MARCH 24TH, 2018 – 10am – 12:30pm
On March 24th I want to start talking about a composer's intent – how a writer's vision is carried forward and realized. This will be the first in more than a few installments of this broad topic – we're doing more than analyzing the music, we'll be trying to "decode" it. Even improvised "free" jazz can have strict form and recognizable intent.
We'll look at three contrasting works: "Black, Brown and Beige" by Duke Ellington, "Pharaoh's Dance" by Joe Zawinul from Miles Davis' Bitches Brew, and "A Love Supreme" by John Coltrane. Despite their obvious stylistic differences, these three works share an evolved sense of "composed" performance. Duke, Miles and Coltrane were composers and instrumentalists. They all played like writers and wrote like players. How does being a player affect one's intent in composing? Let's see if we can decode some of these great recordings' magic.
The premiere 1943 Carnegie Hall Concert of "Black, Brown and Beige" was just the beginning. The piece has been chopped up, reworked, rerecorded and orchestrated, both by Duke himself and others. We'll check out the original, and compare it to an interesting and evocative symphonic treatment of the work by the late conductor Maurice Peress with the Buffalo Phil. We'll hear how both versions really lean on the players to make the magic happen – the score is just a point of departure.
Miles was playing and composing, calling the shots, and even arranging and "recomposing" others' original tunes when he recorded the seminal Bitches Brew in 1968. A lot of it sounds like free blowing, but there is definite structure and intent.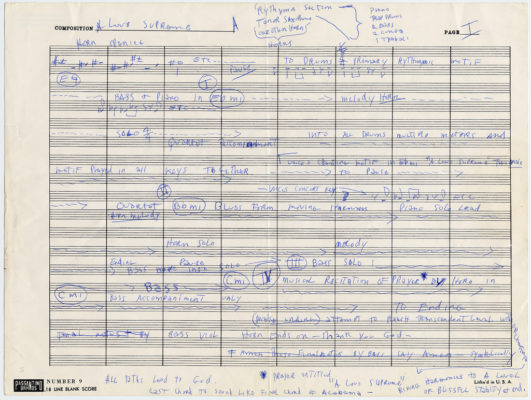 Trane's 1965 masterpiece "A Love Supreme", well, what can I say…
Then after a short break I'll bring to the stage our guest speaker, guitar virtuoso and Emmy-nominated composer Mr. Grant Geissman. Grant has had a long and prolific career, and we're going to hear all about it. Let's try and decode him while we're at it!
You're definitely going to get your money's worth on Saturday. And there will be free food and … oh yes, coffee. See you there. Scott
Cover charge: $15 includes continental breakfast
Purchase tickets in advance on Eventbright or at the door.
———-
Vitello's E-Spot Lounge – 4349 Tujunga Ave Studio City, CA 91604
About Grant Geissman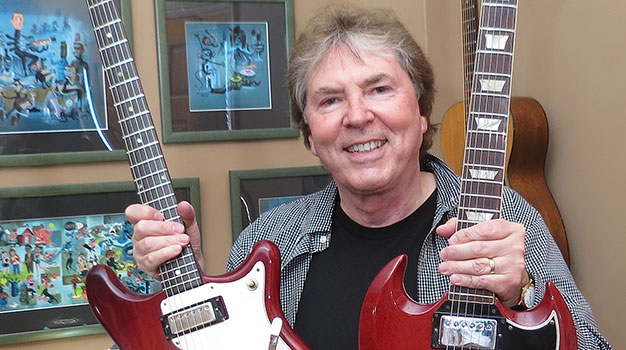 Grant Geissman is a guitarist and composer with fourteen albums released under his own name, the latest being the jazz trilogy of Say That!, Cool Man Cool, and BOP! BANG! BOOM!, for which he wrote and arranged all of the songs (Futurism Records). Geissman also co-wrote the music for all twelve seasons of the hit CBS-TV series Two and a Half Men and all six seasons of Mike & Molly. He was nominated for an Emmy Award in 2004 for co-writing the Two and a Half Men theme ("Men, men, men, men, manly men"). His other TV credits include playing the Django Reinhart-style acoustic guitar solo on the theme of the hit sitcom Monk.
Geissman recorded the now-iconic electric guitar solo on Chuck Mangione's 1978 mega-hit "Feels So Good." Over the years, the versatile guitarist has recorded with such artists as Burt Bacharach, Inara George, Joanna Newsom, Lorraine Feather, Julio Iglesias, Quincy Jones, Gordon Goodwin's Big Phat Band, David Benoit, Van Dyke Parks, and Ringo Starr.